Currently, China is in the key moment of industry transforming and upgrading, AGV industrial robots have been introduced to the process of manufacturing by more and more enterprises. Demand of AGV industrial robots increases greatly in China since 2010, it's 1.71 times more than in 2009. In 2014, the annual demand will be 32,000 sets, installation volume will be over 150,000 sets. China has been the largest consuming country, also may be a great AGV industrial robot market.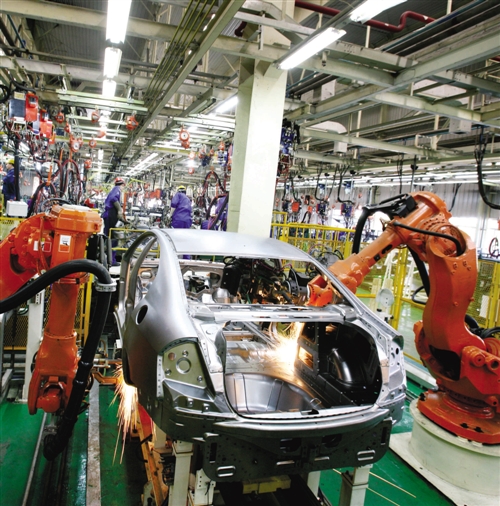 The above picture shows a car shell pulled by AGV, waiting for mechanical hand welding to the next procedure.

The improving technology, intelligent control system, improving peripheral equipment cooperation and lower cost of manufacturing are the necessary technical-economical conditions for wide usage of AGV, the trend of mass application is very obvious.

The usage of AGV is the key measure to promote pillar industry developing and upgrading. It has obvious industry character for AGV when using, the AGV densities (sets/10,000 workers) among different industries can be very different. It's the automobile industry has the most AGV in the world, then it's the electronic industry. For example, the AGV density of Japan automobile industry is 1584 sets/10,000 workers, which is the No.1 in the world. Italy and America automobile industry comes after closely with densities of 1215 and 1176 sets/10,000 workers.

The effect of digitalization manufacturing lowering labor cost may quicken weakening China's advantage in labor force.OK's data shows in 2010, the revised labor cost with productive rate difference of China was about 30% of America. Till 2015, this figure will be 45%. It's been proved wrong that the development of AGV was delayed due to the employment reason. As the birth place of AGV, the United States didn't put the AGV as key project from 1960s to 1970s, government worried developing AGV will increase unemployment rate, so there's no any investment. While Japan lacked of labor force so much that the AGV became hot, till now Japan is still the greatest market of AGV.

For now, the Apple Inc, Ford Motor Company and numerous American enterprises decide to move part of production back to US, it's been discussed extensively that how it might be affected for China manufacturing industry, some voices claim that it's more a challenge than opportunity for recent manufacturing industry of China. It's the question that every AGV enterprise should think about for whether China can capture the opportunity to catch up and promote the development of China AGV industrialization in the AGV boom.
For reproduction, please specify from this website:http://www.okagv.com/Industry_News_14722015.html